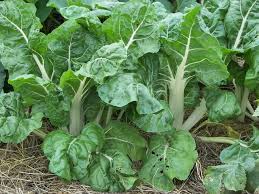 Chard, White Halford
SKU:
(Beta vulgaris subsp. cicla) Biennial in the Amaranth Family, native to Eurasia. Produces bright green foliage with white stalks. An in-house cross of a couple Chard varieties, including the famous "Fordhook", which shows in the wide, flat, ribbon-like stalks of some of the plants. This batch of seed may produce a few non-white chards. Second-year plants allowed to flower are strikingly ornamental, with tall twisty stems and showy inflorescences, up to 6′ tall. Self-sows reliably.
Planting suggestions: Poor soils will produce stunted plants. Tolerant of clay, thrives on organic matter. In the Pacific Northwest, direct-seed Chard when the daffodils bloom. Elsewhere, wait until the Final Frost. Can also be sown in flats and transplanted to 12-18" spacings when plants have three or more true leaves. Harvest leaves oldest first, before they start to fade, throughout the season. Can be cut off, or simply twisted and pulled off. Contains oxalic acid, so should be eaten raw sparingly. Cooking breaks down oxalic acid. One of the most frost-tolerant Chards, in our experience. Will overwinter for year-round harvest if climate is mild enough, or protection from frost is provided.
Contains at least 50 seeds.