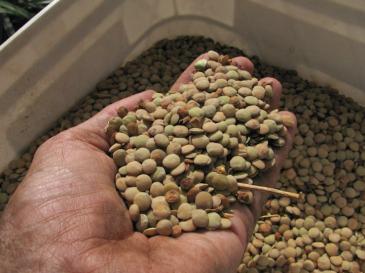 Lentils, Plain Green
SKU:
(Lens culinaris) – Standard, large-sized green lentils.
Planting suggestions: Sow in Spring. A cool season legume crop that finishes in the summer heat. Harvest when pods are rattling but before they crack open! Plants may still have some flowers on them with finished pods ready. Small pods contain 2 lentils each with 1 to 2 dozen pods per plant. Cut or pull up plants and dry them on tarps for about a week to dry completely. Thresh and winnow. This can be a tricky process because the lentils tend to want to stay in their pods. Plan to spend some time with larger harvests.
Contains 100 seeds.